Hot Fudge Oreo Gourmet Cheesecake
aviva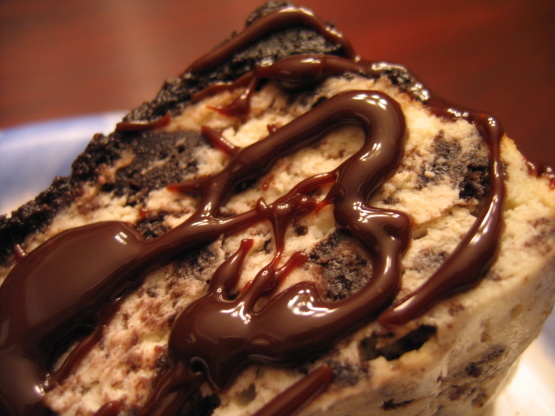 I got this recipe from a local grocery store where I take cooking classes. I made this cheesecake a couple of days ago for a party and it was so easy and fast. People couldn't believe that it was homemade.

i got soooooo many compliments on this cheesecake. the only thing i did differently was instead of folding the cookies into the batter, i poured in about half the batter, then layered in the cookies, the topped with remaining batter. i also baked the cheesecake a little differently: 15 minutes at 350 degrees, then reduce to 200 degrees and bake for 45-50 minutes, then turn oven off and crack the door open until completely cooled. it was the most wonderfully tasty cheesecake i've ever made! thanks so much for this recipe!
CRUST: Coarsely chop half of the cookies and set aside. (I used a food processor.).
Finely crush the remaining cookies, add the butter, and mix. (I used a food processor.).
Press firmly on bottom and about 1 1/2 inches up sides of 9-inch springform pan (doesn't need to be perfect). Pan, especially a non-stick pan, does not have to be greased since there is a lot of butter in the crust.
Bake crust at 325 degrees F for about 4 minutes to set it.
FILLING: In large bowl with electric mixer at medium speed, beat cream cheese a little.
Add sugar and beat until creamy.
Blend in eggs, sour cream, flour, and vanilla.
Fold in coarsely chopped cookies by hand.
Pour batter into prepared crust.
Bake in 325 degree F oven for 50 to 60 minutes or until set.(I baked for 50 minutes and next time I may bake a few minutes less.).
Cheesecake should still jiggle in the center when taken out of oven. DO NOT OVERBAKE.
Cool at room temperature for 1 hour.
Refrigerate at least 4 hours, but better to make 1 to 2 days ahead.
Best way to cut a cheesecake is when it is very cold, using a hot knife(wiping in between cuts), and cutting the entire cake before removing a piece.
Heat hot fudge on high for 30 to 45 seconds until warm and pourable consistency.
Spoon hot fudge over each slice of cheesecake.
For a change, substitute malted milk balls or milky way bites instead of the oreo cookies in the filling.