teresas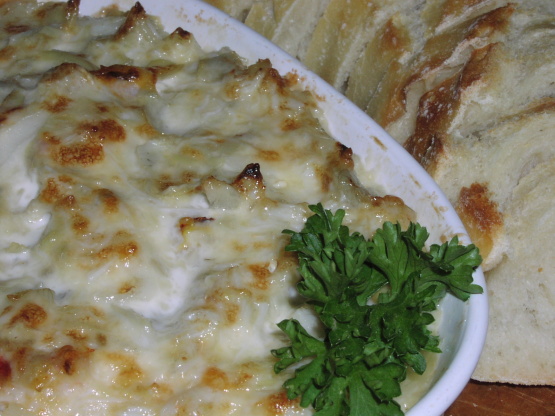 This is from a local Restaurant by the name of Stanley & Seafort's. A wonderful place to eat dinner and look at the city lights. A must have as an appetizer. Yes! It is on the expensive side but well worth it. I cut the recipe down to serve 1 and it makes plenty for 2 people. I also throw it under the broiler for a minute or two to brown. Enjoy!
Preheat oven to 350 degrees.
Thinly slice the onion.
Chop the artichoke hearts.
Combine mayonnaise, crab meat, artichoke hearts, onions and the Parmesan cheese well. Portion crab mixture (6 oz.) into small oven proof baking dishes. Place the baking dishes into the oven for 5 to 6 minutes, or until the internal temperature reaches 140 degrees.
Arrange bread slice on a plate around the crab dip, garnish with minced parsley & lemon slices.