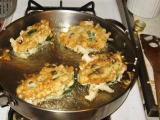 Here's yet another trip down Nostalgia Lane by the old bone man. (There are more, including county fair specialties on my recipe list). They used to advertise this on American Bandstand (hosted by Dick Clark) in the 50s and this drink's popularity finally died out somewhere around the mid-60s. But you can STILL do it if you have a notion! *.*
12 ounces Dr. Pepper cola, soda Dr. Pepper brand
3 lemon slices, thin
Directions
Pour the Dr. Pepper into a medium saucepan and heat to about 180-degrees F. (The carbonation will make it look like it's boiling but you can ignore this if you use a thermometer).
Pour the hot Dr. Pepper into a crystal tumbler and drop in the lemon slices.
Enjoy!
Most Helpful
I learned about Hot Dr. Pepper from a friend who served it when we worked in her unheated darkroom developing photographs....I still love it! I use Diet Doctor Pepper now, and I add orange and lemon slices, and squeeze them into the Doctor Pepper. Completely different hot than cold, and the added fruit just makes it wonderful! I'm so glad somebody thought to post this. I had it again on New Year's Eve this year--better than the wine we bought!

This really brought back memories. Well, it is not a memory any longer, it will be a well favored beverage for our 16 year old and friends and not just Mom and Dad any more. Thanks for posting!

Ah what memories!! Many years ago when I was but one poor kid, among 6, mom bought Dr. Pepper, but two bottles were split among the 6 of us to make it go further. And what a treat it was when we could have it hot with lemon slices! So good in that old farm house when the wind whistled in through the cracks! Try it... You'll love it!