Hot Dogs With Mashed Potatoes
Lare A.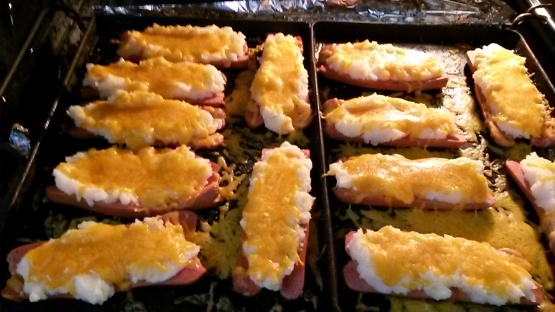 A budget meal to keep in mind during those in-between paycheck weeks, when you just need to eek out few more days without running to the grocery store, and when you and the kids are just plain sick of pasta.

I didn't follow this recipe exactly, but when my initial plan to make a hot dog, mashed potatoes, and cabbage fell through, I took inspiration from it. I wrapped the hot dog in a slice of cheese, put it in a bun, and then topped it with mashed potatoes. It was surprisingly good! Thank you!
Split the hot dogs lengthwise and place on a cookie sheet.
Fill the split with mashed potatoes. Sprinkle grated cheese on top.
Bake at 350°F until the hot dogs are done and the cheese is melted, about 10 minutes.