Hot Dogs, Noodles and Tomatoes
Parsley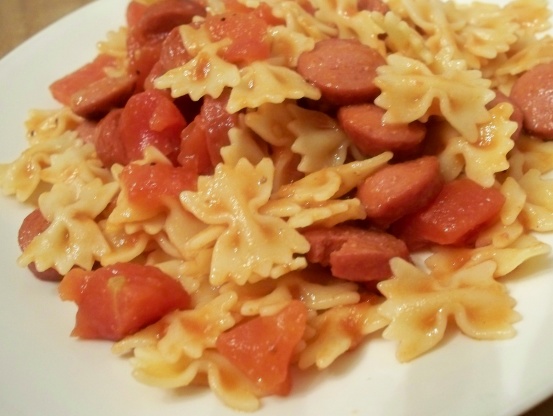 my mom has made this for years, as adults my brothers and sister still make, and it is a favorite of all the grandkids. we haven't met anyone yet who has heard of this, but it is good. also works with kielbasa, but hot dogs are the way mom made it, we never measured, just threw together what looked right, so this is fairly approximate, as are number of servings, can also use bow tie pasta for this, actually we prefer it

I can't believe that I found this recipe out there! Like you, we've never known anyone who has heard of this. This recipe has been a favorite in our family since my mother-in-law started making it for her kids back in the 50's! Since then, it has been passed down - currently to the 3rd generation! It maintains it's status of "favorite". The only difference in our family's recipe is we don't add the garlic salt/powder (the first generation still aren't fans of garlic...if you can imagine that!) and we add 2-3 Tablespoons of butter to the pasta & hot dogs before adding the tomatoes. It adds a nice richness to the dish. Thank you for posting this!
in large pan boil hot dogs (cut in 1" pieces or smaller) and pasta.
drain, return to pan.
add tomatoes, crushing with spoon to release juices.
season to taste, mix well, heat on low until hot through.