Linky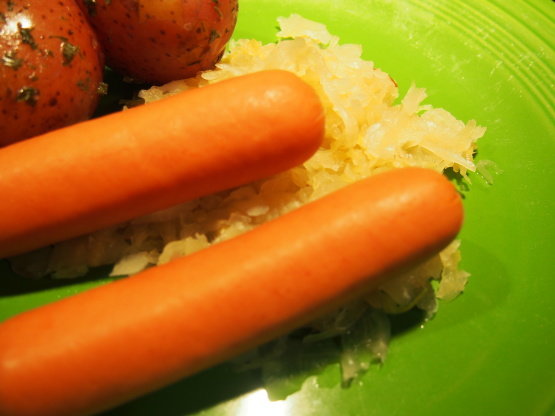 This is so simple to make but tastes so good! My mom made this for us when we were younger and still a favorite of mine. Smoked sausage could also be used but I prefer the hot dogs. Serve this over mashed potatoes for total comfort food.

Memories of childhood on a plate. All this time I just thought it was one of my family's crazy dishes. I do season the kraut with pepper and fry it in a tad of bacon drippings just like gramma used to do. Think I'll head to the kitchen right now to whip this little "treasure" up for lunch right now! Thanks Lauralie for the memories & for posting this old favourite.
In a large skillet add the sauerkraut. Place hot dogs on top of the kraut.
Cover and let simmer 15-20 minutes or until hot dogs are plump and hot.
Serve over mashed potatoes.