Kim M.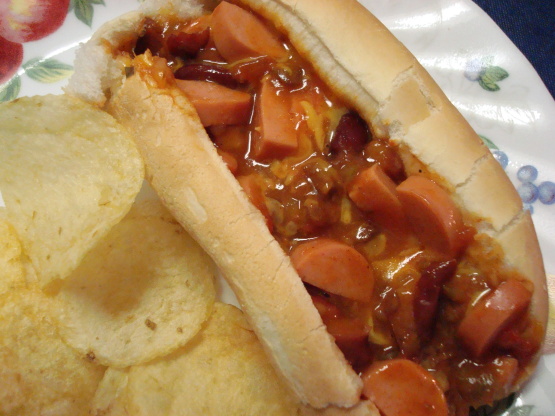 Who wants to mess with all those jars and bottles of condiments all over the table? Here is a great lunch or to-go dish that saves all that leftover clean-up and mess. You can make the filling ahead then assemble them when ready to cook at home, a picnic, or tailgate party. :)
I did the recipe for 4 hot-dogs. I used recipe#420923 instead of chili. Another time I'd like more spaghetti sauce in it and more cheese. Next time we'll grease the aluminium foil cause the cheese stuck to it. We cooked them on the bbq at low heat for 15 minutes. 2 were burned. So we won't do them on the bbq but I'll try in the oven. Thanks 2Bleu :) Made for PRMR tag game
In a large mixing bowl, stir together all ingredients except buns.
Have 12 pieces of aluminum foil ready. Partially hollow out centers of buns.
Fill each bun with hot dog mixture. Wrap in aluminium foil, sealing securely.
Place on a cookie sheet and bake in a preheated 375 degree Fahrenheit oven for 20 minutes OR place on top rack of outdoor grill; cover grill and grill for 15 to 20 minutes.