Linky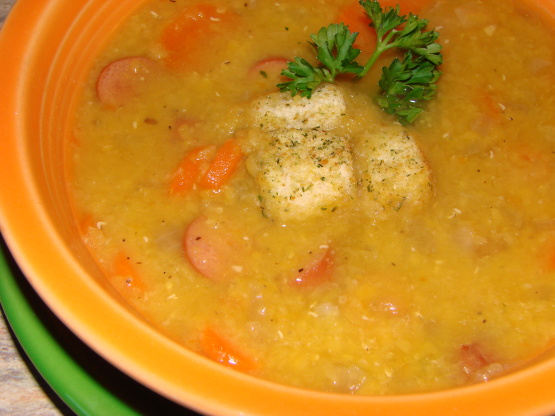 This is a family favorite, courtesy of Family Fun Magazine, which has been in our menu line up since it was published. This is a real kid pleaser!!! Perfect with a salad and loaf of warm bread on a cold winter night.

Top Review by Linky
No kids at home, but a yummy soup nonetheless. I used dried red lentils because that's what was on hand. Also, no basil, so garnished with croutons and parsley. This is a hearty soup that is just the right consistancy. Thanks, IGtbQ! Made for Spring 09 PAC
The kids can help to slice up the hot dogs into 1 inch pieces by using plastic knives.
Start with a large soup pot. Sauté the hot dogs in the oil until they are browned. Remove the hot dogs & refrigerate. Next, sauté the onion, celery, carrots and garlic for 5 to 10 minutes.
Add the water, stock, lentils, salt, pepper, and basil. Bring to a boil, and then reduce the heat to low and simmer for 1 to 1 1/2 hours.
Adjust the seasonings and add the hot dogs back in to warm them through. Serves 8 to 10.