Yankiwi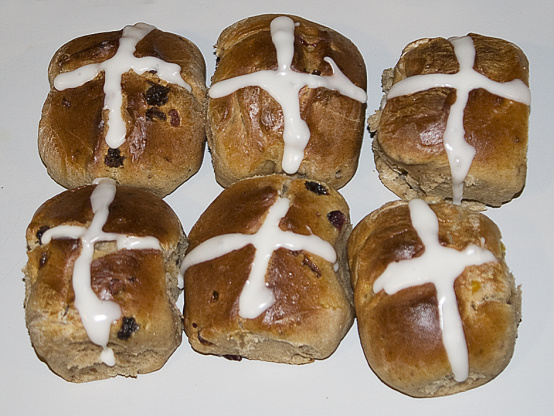 These are just perfect! I was looking at hot cross buns in the store today and thinking how they must be easy to make. This recipe proved it. I even forgot the salt but it didn't seem to affect the recipe. They taste so much better fresh out of the oven than the store-bought ones. I baked them for 15 minutes at 170 C in a fan oven (it would be about 190 C in a normal oven) and they turned out a beautiful dark brown.
In a mixing bowl, dissolve yeast in water.
Add milk, sugar, butter, vanilla, salt, nutmeg and 3 cups of flour; beat until smooth.
Add eggs, one at a time, beating well after each.
Stir in the currants, raisins and enough remaining flour to form a soft dough.
Turn onto a floured board; knead until smooth and elastic, 6-8 minutes.
Place in a greased bowl; turn once to grease top.
Cover and let rise in a warm place until doubled, about 1 hour.
Punch dough down; shape into 30 balls.
Place on greased baking sheets.
Cut a cross on top of each roll with a sharp knife.
Cover and let rise until doubled, about 30 minutes.
Beat water and egg yolk; brush over rolls.
Bake at 375 degrees for 12-15 minutes.
Cool on wire racks.
For icing, combine sugar, milk and vanilla until smooth; drizzle over rolls.