Hot Crab and Artichoke Dip
Boomette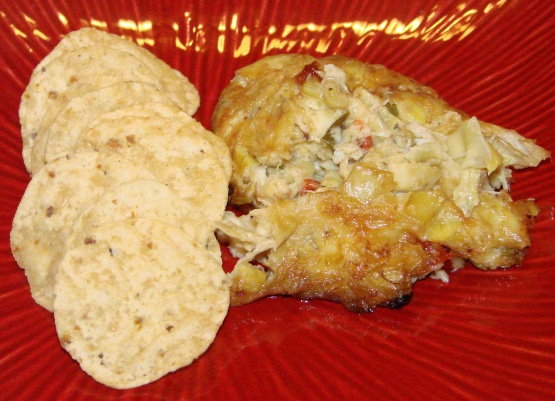 A zesty variation of the traditional artichoke dip. Found in Dining by Design Stylish Recipes Savory Settings...Junior League of Pasadena, Inc. I haven't made it yet but my neighbor did for a luncheon...I thought it was good for a nice change. Serve with assorted crackers and /or warm baguette slices.
This is so yummy. It was very good with tostitos. I used cheddar cheese instead of parmesan cheese. For us, 1 tablespoon of jalapeno was not enough. It was not spicy. I used celery seeds instead of celery salt. Thanks Mama Smurf :) Made for Bargain Basement tag game
Preheat the oven to 375 degrees.
Warm the oil in a medium nonstick skillet over medium-high heat. Add the bell pepper. Saute for 3-4 minutes or until light brown. Remove to a large bowl.
Stir in the artichoke hearts, mayonnaise, Parmesan cheese, green onions, Worcestershire sauce, jalapeno, lemon juice and celery salt. Mix in the crab. Season with the salt and pepper.
Put the mixture in an 8-inch quiche or pie pan with a 1 1/2-inch side.
Bake for 30 minutes or until the top is light golden brown and bubbly. Serve with the crackers and baguette slices.