Hot Cocoa With Floating Eyeballs
Kathy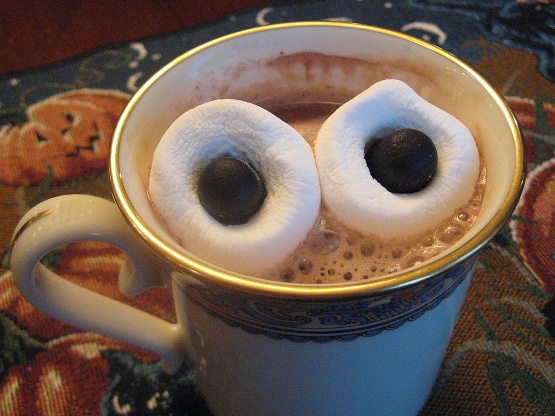 Add these beverage stirrers to cups of steaming hot chocolate for some Halloween fun.
2

cups powdered sugar
black licorice candy

2

quarts milk

1

cup chocolate-flavored powdered drink mix

1

cup mint chocolate chips

16

lollipop sticks (optional)
Make slit in center of each marshmallow; insert licorice candy into slit.
Insert lollipop stick into center of bottom of each eyeball; set aside.
Combine milk and drink mix in medium saucepan.
Stir in chocolate chips.
Cook over medium heat, stirring occasionally, until chips are melted and milk is heated through.
Place 2 eyeballs in each mug; fill mug with hot cocoa.
Serve immediately.
Variation: Omit sticks and float marshmallows in hot cocoa.