Ms B.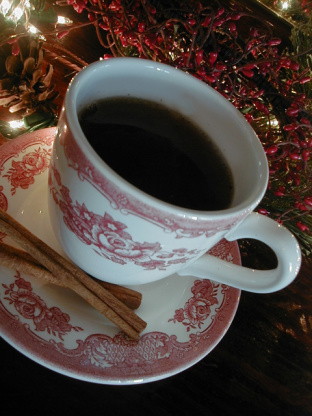 A Penzey's recipe--came with some spices I got as a wedding gift! Can't wait till it's cold enough to try this!

Top Review by Ms B.
This is a perfect cider. I added the ingredients to my large crockpot and simmered for my holiday party. It was such a success that I made more for Christmas Eve with family. I didn't include the rum in the heated mixture, and just allowed my guests to add their own into each mug and provided extra cinnamon sticks for stirring. Mmmm...this smells wonderful and tastes even better.
Combine all ingredients in pot on the stove, and simmer on med-low heat until scent fills your house!
The cinnamon sticks can be placed in the cups as drink stirrers if you want.
It takes about 20 minutes of simmering for the cinnamon flavor to start coming out of the sticks, and they can be used over several tmes--just rinse and leave to dry in a warm spot.
Don't go too nuts with the nutmeg--it gets stronger during cooking and can become overpowering.
A quick grating over the pot is perfect.
I imagine you could add rum or something similar to this for an adult party.