Hot Chocolate Cake With Marshmallows
Ms B.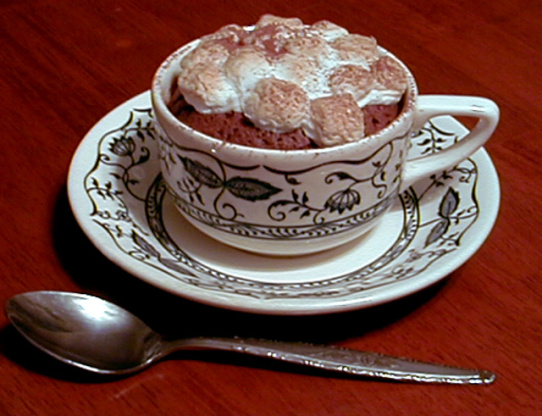 A very rich and dense chocolate cake baked in individual mugs and topped with toasted marshmallows. Please make sure that your mugs are ovenproof prior to using for this recipe...ramekins could be substituted. Recipe From February 2005 issue of Real Simple magazine.

I think this tastes like a brownie. We had baked in a spring form. We didn't like the marshmallows on it (they got very gummy while cooling down) and had an awful time getting them off of the cake again. I would simply recommend whipped cream on top, dusted with cocoa powder and cinnamon, instead.
Preheat oven to 375°F.
Butter, flour and sugar eight 6-ounce coffee cups or mugs made of ovenproof stoneware.
Wipe the rims clean.
Place the 8 tablespoons of butter and the chocolate in a bowl over a pan of simmering water (or in a double boiler) and melt.
Stir occasionally until combined and smooth.
Remove from heat and let cool 5 minutes.
Beat eggs, yolk, vanilla, salt, and 1/2 cup sugar at the highest speed until the volume doubles and the mixture becomes foamy, about 5 minutes.
Stir the 3 tablespoons of flour into the chocolate.
Gradually add it to the egg mixture, beating on low until it is fully combined.
Spoon the batter into each cup until it is about 3/4 inch from the rim.
Bake until the cakes puff and begin to crack, but the centers are still a bit runny, about 13 to 17 minutes.
Remove from the oven.
Sprinkle with marshmallows, return to oven for 2 to 4 minutes, until the marshmallows begin to crisp.
Remove from oven.
Allow to cool about 5 minutes.
Sift cocoa on top.