Hot Chicken Wings With Banana and Curry Sauce
Nimz1466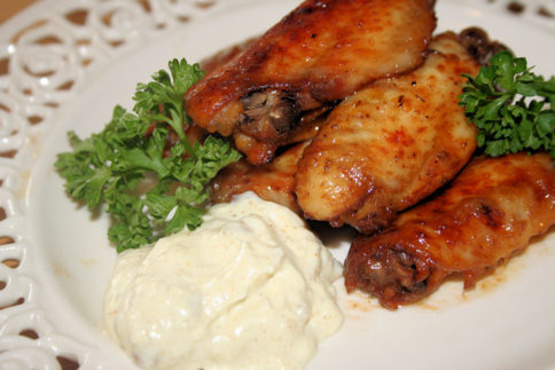 A great combination of spicy chicken and the gentle sweetness of banana! Hotness depends on your chilli powder – with a milder chili mix this is not particularly hot at all, but still very flavourful. I've also made this with quartered chicken breast halves when I couldn't find wings! These go great with a potato and feta salad with olive oil dressing. Recipe adapted from Ruokala website.

The chicken wings were excellent, although not very hot. I might add some additional hot sauce when I repeat this recipe, which I surely will. We did not care for the Banana Curry Sauce at all. Just didn't compliment the wings for us. We liked them much better plain. Thanks for sharing. Made for PAC Spring 09
Mix marinade ingredients with a handheld blender. Pour marinade on top of chicken wings, mix, and let marinate for at least 30 minutes.
While the chicken wings are marinating, prepare the sauce: Chop banana and add the rest of the ingredients. Process with a handheld blender until smooth. Transfer sauce into the fridge to let the flavours "marry".
Preheat oven to 200°C Place chicken wings in an oven proof dish (or a lined cookie sheet) and dab with paper towel to remove excess marinade. Bake for 10-15 minute or until done. When done, add a sprinkling of salt, if you prefer.
Serve with banana and curry sauce.