Brenda.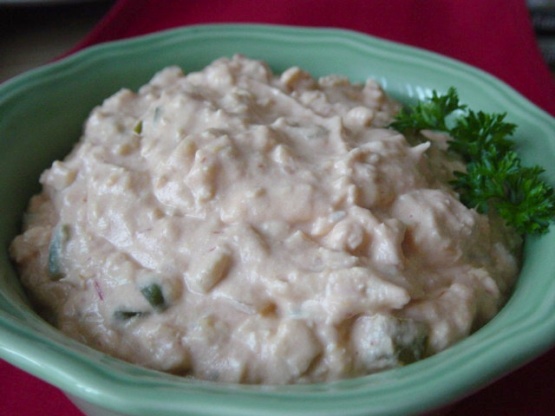 This is always a crowd pleaser. I received this recipe from my sister in-law Susan. This dish is always empty at the end of a party. Easy on clean-up.

*Made for PAC Spring 2007* This is quite good :) I made it in my 1.5 quart crockpot and that worked out well. This is a nice, chunky, cheesey dip. We ate it with thick tortilla chips. I may sub out 1/2 of the cheddar for monterey jack next time only because cheddar has a coarser texture and I thought with the chicken, jalapeno and salsa, it would have made for a creamier sauce. Thanks for sharing- Nick's Mom
Boil chicken breast until done. Allow chicken to slightly cool, then chop into small pieces.
Combined diced chicken with the two packages of softened cream cheese. Add in jalapeños.
Place chicken mixture in a 9x13 dish. For the next layer add the jar of salsa. Top with shredded cheese.
Bake at 350 degrees for 15-20 minutes, or until the cheese has melted.
Two large cans of chicken can be substituted for the cooked chicken breast. It's not quite as good, however, when pinched for time it will work just fine. Adjust jalapeños to taste.
This recipe also works great when served in the Pampered Chef deep dish baker.