Hot Cheese Hors D'oeuvres
2Bleu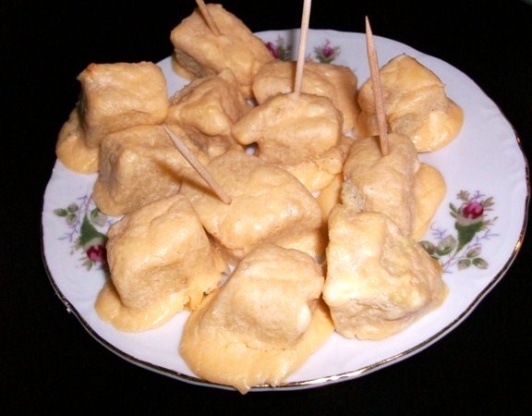 Entered for safe-keeping, this was one of MDM's standbys, from "Flavored with Tradition: A Collection of Recipes from Charleston, Atlanta, and Richmond." Number of servings is a guess, it depends on how many slices of bread your loaf yields.
Trim crust and cut bread into 1-inch cubes.
Melt cheeses and butter in top of double boiler. Remove from heat, cool slightly, and add the egg whites.
With a fork, dip each bread cube in cheese mixture until well coated. Place on baking sheet, chill overnight or freeze.
Bake at 350 degrees Fahrenheit for 12-15 minutes until light brown and puffed.
Serve hot.