Prep 10 mins
Cook 30 mins

I adopted this from the Recipezaar account. A great bean dip that's a bit different from others. I sometimes add a little extra cheese or hot sauce. Serving size is an estimate.
Directions
Preheat oven to 350°F.
Stir all ingredients together until well mixed. Spoon into a 1 - 1.5 qt ovenproof dish.
Bake for 30 minutes or until bubbly. Serve hot with tortilla chips.
Most Helpful
Totally addicting!! I ate way too much of this! With a golden tortilla chip dipped in, it was just amazing! Will definitely be making this again!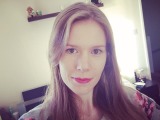 Followed this recipe exactly. Had it for my super bowl party and I am sorry to say..no one ate it. People tried it but did not finish it. I will make it again and play around with it.

I can only give this 3 starts but I have to say that it could be my fault for using the wrong ingredients. All I had was fat-free cheddar so that's what I used and as a result, I felt the dip was really pretty bland. I think the recipe lends itself well to modifications based on taste so I will try it again using either a sharp cheddar (as directed) or possibly pepperjack. I mixed the ingredients together in a food processor to ensure consistency and for ease of preparation.