Hot Chai Ovaltine or Cocoa
loof751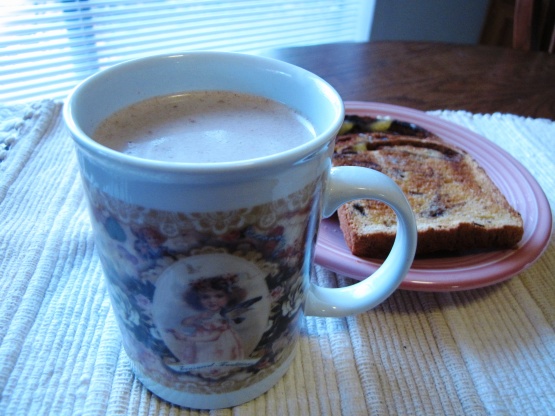 A few weeks ago, I wanted something a little different from your average mug of hot Ovaltine, something with a little spice. So I added various spices I knew were in chai. After that, I added the same spices to Stephen's dark chocolate cocoa mix. Yum! Please note, there isn't any tea in this recipe, just the spices that make chai so tasty!

What a wonderful and unusual drink! I used the hot cocoa mix (2T); I used the optional powdered milk and half milk, half water for the liquid. I added about 1/4 of the milk to the dry ingredients and stirred well until it was blended and smooth, then added the rest of the milk. The chocolate flavor is not intense here, but more of a compliment to the other spices. Really enjoyed this - thanks for sharing your recipe! Made for the Comfort Cafe Event, January 2010
Heat milk or water until it's nearly boiling.
Combine remaining ingredients in your favorite mug.
Add hot milk or water and stir.
Add whipped topping or marshmallows or your favorite cocoa toppings.