Hot Caramel Apple Cafe (Hot Drink)
Pamela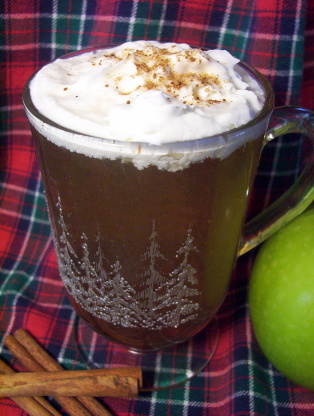 Move over traditional hot cocoa on a cold winters night; you will have a love affair with this concoction. I had this at a Starbucks earlier this year; after fooling around with ingredients, this is the clone. A wonderful drink to curl up with on a chilly night; great for a bonfire or a holiday gathering as well.

Top Review by Manda
Made this with a group, so we, of course had to up the servings quite a bit. Apparently, it did not affect the flavor, because this drink was "to-die-for"!!! It was fun because everyone could choose the amount of toppings they wanted on their drinks. Definitely a winner for those chilly winter nights. Thanks for sharing:) ~Manda
Bring 8 or 9oz of apple juice to a boil.
Add 1 Tbsp of cinnamon syrup to the bottom of a 12 oz mug.
Add boiled apple juice.
Top with whipped cream, pour caramel syrup generously; let caramel run into juice.
Add more whipped cream and caramel, if desired.
Sprinkle whipped cream with nutmeg and cinnamon, if desired.