Hot, but Sweet Corn & Potato Chowder
Junebug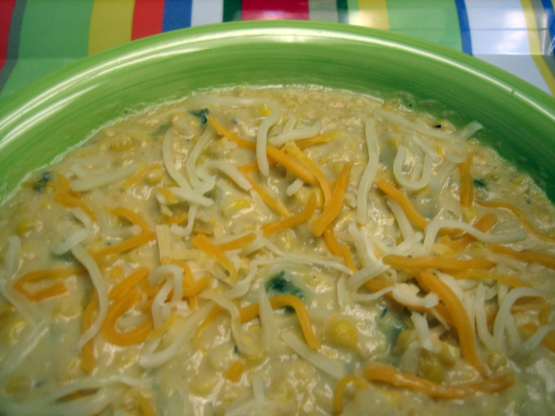 This is FANTASTIC!!! Instead of the oil, I fried a few strips of bacon that I cut up. And, I also added a couple of ribs of celery. For the whole k. corn I used white corn. Very Good GAY!!!
cooking oil

2

yellow onions, diced

1

leek, thinly sliced

2

(15 1/4 ounce) cans corn

6

small red potatoes

1

jalapeno pepper, thinly sliced

1

teaspoon cumin
1⁄4 teaspoon chili powder

2

(15 1/4 ounce) cans creamed corn
1⁄2 cup milk (to thin the soup)

1

tablespoon fresh thyme
put a bit of oil in a big stock pan, and add the onions (it will be a lot, i always just run these through the cuisinart to get good thick sections instead of squares and it saves on the tears).
cook the onions for ~10 min, until they are clear and a little brown.
add the leek and corn, cook for 5 more minute.
add the creamed corn and potatoes. if necessary, add milk to thin the soup out a bit and cover the potatoes.
stir in the spices.
cover and simmer for 20 min, or until the potatoes are cooked through.