Hot Bacon & Swiss Dip With Pita Crisps
alligirl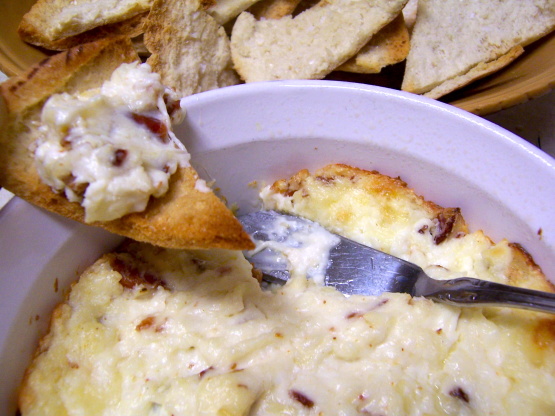 This was a recipe I received from my friend Terri. She served this dip using one of the small crock pots (2-3 cup). It kept the cheese melted and warm through the whole party. The chips really make this recipe, but could use crackers. This is a great dip to make for parties as it keeps warm throughout, awesome for football parties, guys love this hardy dip!!!!
This is a great dip. I really loved it. DH didn't because he found it too sweet. Probably because of the miracle whip (I made recipe#267595). Maybe I'd try again with half needed. The good news is that I had it all for myself (I made half recipe). The pita crisps are so good. I used black sesame seeds. Thanks Diner :) Made for Potluck tag game
Preheat oven to 375 degrees.
In microwave safe bowl, soften cream cheese on medium (50%) for 30 seconds. Mix cream cheese, miracle whip, swiss cheese, green onions and bacon until well blended.
Spoon mixture into 2 1/2 cup casserole dish or 9-inch pie plate(or use tiny crock pot). Microwave on high for 4 minutes or until heated through, if using crock pot, just pour mixture into it and turn it on.
Take pita and cut them into 8ths, and then split each triangle by separating it from outer seam, into 2 pieces. Spread rough side with butter and sprinkle with sesame seeds.
Place on cookie sheet and bake for 8-10 minutes or until crisp.