Hot Bacon Dressing (Hudson's)
Nimz1466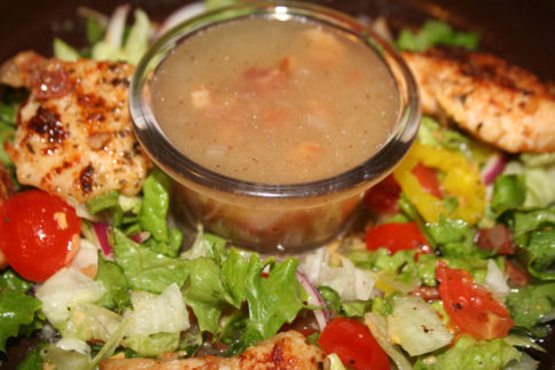 This bacon dressing is to be served with Hudson's chicken sandwiches. The recipe for the chicken sandwiches is listed as well. This is a long sought after recipe from the Hudson's dept. store in the early 1900's.

We loved this. I used this over a combination of iceberg lettuce and leaf lettuce with spicy chicken strips, cherry tomatoes, red onion, pepper rings and a little shredded cheddar cheese for dinner tonight. The dressing takes a little time, but well worth the effort. Just before serving, I transferred the dressing to a bowl and whisk it all together to combine. Perfect combination of sweet and tart. Perfect dinner salad. Thanks. Made for a bonus tag in Pot Luck tag game.
Fry bacon til crisp. Remove the bacon with a slotted spoon and set aside. Add onion to bacon fat in pan and cook 5 minutes til onion is soft. With a slotted spoon, add onion to bacon. Pour bacon fat into a measuring cup and add vegetable oil to equal 1/2 cup. Add bacon fat to cornstarch mixture and reserve. Combine vinegar, water, sugar, salt and pepper in a small saucepan and heat to a boil. Add cornstarch mixture and cook til thickened (1-2 minutes). Remove from heat and add bacon and onion. Use while warm.