Hot Artichoke and Spinach Dip
Prep 10 mins
Cook 25 mins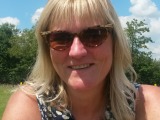 Got this recipe from "colonize.com" website in 2000 and is a family favourite.
Directions
Preheat oven to 350 degrees.
Allow cream cheese to come to room temperature.
Cream together the mayonnaise, parmesan and romano cheeses, garlic, basil and garlic salt. Mix well.
Add artichoke hearts and spinach. Mix until blended.
Spray a pie pan with non-stick cooking spray. Pour in the dip and top with the mozzarella.
Bake at 350 degrees for 25 minutes or until the top is browned.
Serve with toasted bread or tortilla chips.
Most Helpful
Good stuff - works well in a small crockpot too!
Thanx for posting this dip. It is absolutely fantastic! I used reduced-fat cream cheese and reduced-fat mayo, but you couldn't even notice. I think my 2-yr-old enjoyed this the most...lol. I caught him "double-dipping". He was using the same chip and just licking the dip off and dipping again and repeating! This recipe is a keeper!