Annacia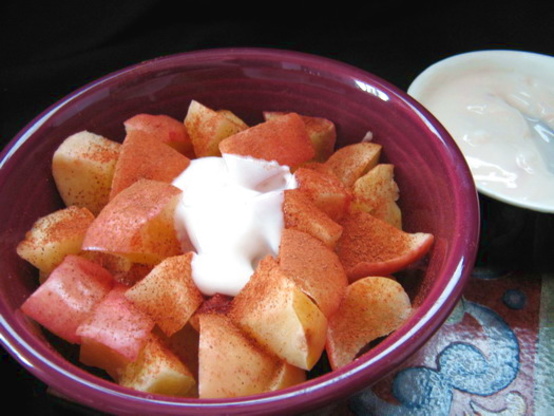 A simple, sweet and warming snack for any age.

MMmmmm, its such a simple recipe that you cant give it less than five stars. I just stuck my golden delicous apple in a pyrex and microwaved away. =] the cinnamon adds a nice little touch, and what i like MOST about this recipe is there is NO ADDED SUGAR. I skipped on the yogurt, though. A great way to change up my every-morning routine of a plain old apple!
Slice the apple into half and cut off the gross bits. Turn it onto its flat side and chop into small pieces(cubed is good).
Place in a microwave-proof dish and microwave at 100% for two minutes.
Sprinkle with cinnamon if desired. Also, try stirring it into yoghurt.
Dig in!