Hot and Sweet Nut Brittle
CoffeeB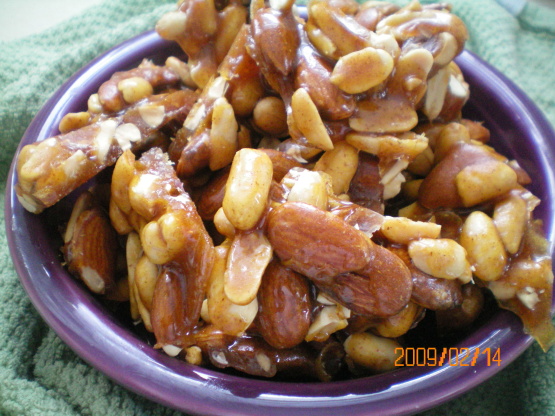 This is originaly from Gourmet magazine. While I'm not their biggest fan this was a keeper. I promise you that it will shake up the candy plate. Serving amount depends on the size of the pieces you breat it into.

This is a terrific twist to the normal peanut brittle I normally make. I made this for my brother as a thank-you and he said "this brittle is the whip"...:-) If you love the taste of southwestern seasonings, the cumin here really shines thru. I added just a touch more than 1/2 t. of cayenne peppr too. Also, I used 1/2 pound of almonds and 1/2 pound of blanched peanuts. I'm sure most any nut type would be excellent. Thanks for a keeper Anna!. Made for MarketTag~
Preheat oven to 375°F Place almonds in 15 1/2 x 10 1/2-inch jelly-roll pan. Bake 10 to 15 minutes until golden brown, shaking pan occasionally. Cool almonds in pan on wire rack.
While almonds cool, in heavy 3-quart saucepan, heat vinegar and 2 cups sugar to boiling over medium heat. Continue cooking over medium heat until mixture turns dark amber in color, 15 to 20 minutes, stirring occasionally. (If using a thermometer, temperature should read about 360°F.)
Meanwhile, in small bowl, mix salt, cumin, coriander, ground red pepper, and remaining 1 tablespoon sugar. Lightly grease large cookie sheet.
Remove saucepan from heat. Stir spice mixture into hot sugar syrup. Add almonds, and stir until evenly coated. Immediately pour mixture onto cookie sheet. With 2 forks, spread almond mixture to form a single layer.
Cool brittle completely on cookie sheet on wire rack. With hands, break brittle into small pieces. Store in tightly covered jar or tin for up to a month.