Hot and Spicy Sloppy Joes
Rita1652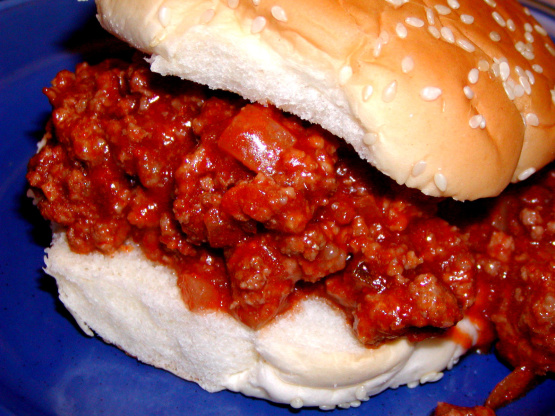 Spicy!!!! Crock pot recipe! Yes! There is no reason you can't make these stove top. Just simmer till flavors meld and meat is tender. I also puree an optional carrot and red bell pepper for sweetness and extra nutrients for the family

Today I prepared the sloppy joes ontop the stove, and thought I'd edit my review... I did use 2 lbs of ground beef though, 1 cup of diced onion, 2 cloves of garlic (minced), 3/4 cup of Spicy Hot V-8, 1 cup of catsup, I omitted the water, added 3 tablespoons of packed brown sugar, 2 pickled jalapenos (which I cut in half; removed the seeds, and diced them into the meat mixture). I also added 1 slightly heaping tablespoon of yellow prepared mustard, 3 teaspoons of chili powder, and 2 teaspoons of Worcestershire sauce. I simmered the sloppy joe mix (covered) for 25 minutes; stirring twice while simmering. I then removed the cover, and continued simmering the sloppy joe mix for 10 minutes. This was an easy way to cook the sloppy joes, minus using the crock-pot. My review on May 27th, 2008: Rita L, chef sheerkerry prepared these "excellant" sloppy joes, but she used a mild picante tomato juice, and added a little more ketchup (a 3/4 cup). The brand of canned jalapenos she used was, La Victoria Fire Roasted "Hot" Diced Jalapenos. She also added 2 Tablespoons of Mc Cormick's 1 Step Seasonings (Tex - Mex Chili Spice). We ate this on toasted hamburger buns, with a shredded Mexican cheese ontop. Rita, these sloppy joes were so darn good. Thank you for this delicious recipe!! Editing my review of recipe... Rita, I just recently I made these delicious sloppy joes once again, but this time I cooked them on high for 2-1/2 hours in the crockpot.
In a large skillet cook ground beef, onion, and garlic till meat is brown and onion is tender.
Drain off fat.
Meanwhile, in a 3 1/2 or 4 quart crockery cooker combine tomato juice, catsup, water, brown sugar, jalapeno peppers, mustard, chili powder and Worcestershire sauce.
Stir in meat mixture.
Cover; cook on low heat setting for 10-12 hours or high heat setting for 3-5 hours.
Toast buns; spoon meat mixture over buns and sprinkle with cheese.