Kathy228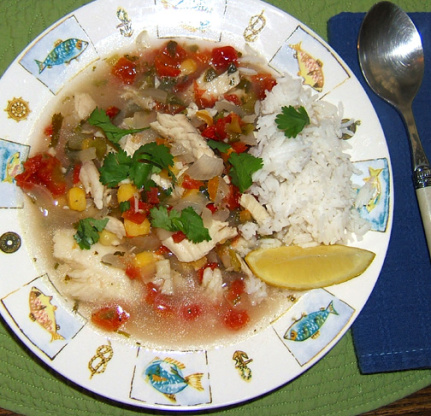 I modified this recipe from "The Ocean's Bounty," a little recipe book given to me by a friend from Connecticut. Instead of using whole fish, I used fillets, which cuts the cooking time. I cook only until the peppers are crunchy-done.

I made this for lunch and loved it. I used some Snapper I had in the freezer, used some dashes of Louisianna Hot Sauce in place of the chili peppers and skipped the hominy because I don't believe I have ever seen it in Canada. All that said, this is delish! The clam juice adds a lot to the character of this soup, I used 1/2 and 1/2 wine and water and I thought that worked very well. Thanks for a very good dish!
Put the first 13 ingredients (to the cumin) into a large stockpot. Bring to a boil.
Simmer gently 5 or 6 mnutes.
Cut the fish into 2 inch pieces and add to broth. Simmer for an additional 8 minutes.
Add cilantro, hominy, butter and HEAT gently.
Adjust seasonings to taste.
Garnish with fresh cilantro and serve with boiled white rice and lemon slices.