Bergy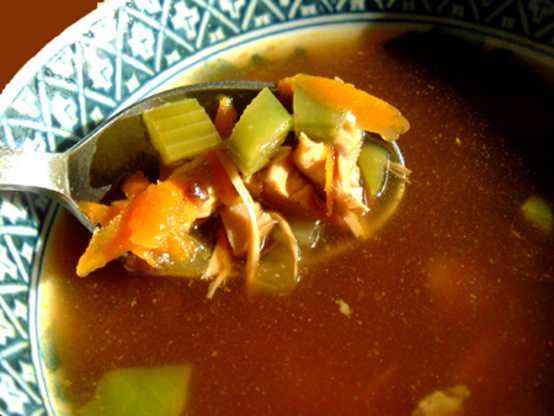 A delicious way to use leftover turkey. A quick,light, boxing day lunch, or any time. From Better Homes & Gardens

I love this soup. I've made it several times to use up leftover turkey or chicken. I've substituted vegetables I have on hand like celery and frozen peas and it's just as good. I also leave out the sugar, because I like the tanginess of the vinegar. Thanks for posting this.
Combine chicken broth, mushrooms, vinegar, soy sauce, sugar, gingerroot and pepper, Use a large saucepan.
Bring to boiling.
Meanwhile, Stir together cornstarch and cold water.
Stir into broth mixture.
Cook and stir until thickened and bubbly.
Cook and stir for 2 minutes more.
Stir in turkey, bok choy and pea pods.
Pour the egg slowly, into the soup, in a steady stream while stirring 2 or 3 times to create shreds.
Remove from heat.
Stir in green onions.