RuPei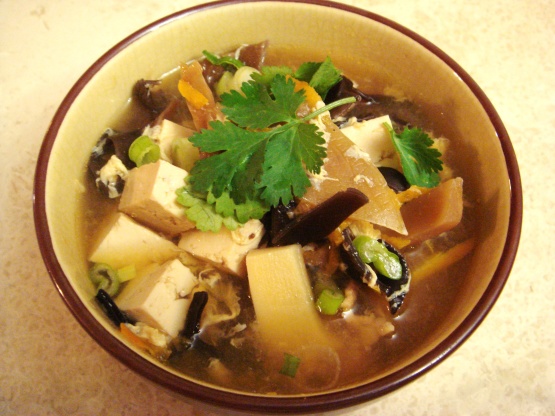 "Hot and Sour Soup" is a perfect soup in the fall and winter. It's also a healthy and delicious soup which you can't miss. In Taiwan we love it all year long! Plus, we add dumplings in the soup! You can find the ingredients pretty easy in any Chinese markets.

This is certainly different and milder than hot and sour soups I have had in restaurants, but it is delicious and healthier. I did add a little heat to the soup; but otherwise tried to stay with the recipe instructions other than a few exceptions. I did not have any black fungus, but used mushrooms instead and I used straight chicken broth - no water (other than the 1/3 cup that I mixed with the cornstarch as a thickener). The sesame oil adds such a nice flavor to the soup. Will definitely make again. Made for Fall PAC, 2012.
Combine pork, rice vinegar, white pepper powder and corn starch. Refrigerate for at least 20 minutes.
Soak dried black fungus with warm water until soft. Wash and slice.
Cook black fungus, bamboo shoot, mustard greens in boiling water for about 1 minute. Drain and set aside.
Combine 1 tablespoon corn starch and 1/3 cup water.
Boil chicken broth and water together in a soup pot. Add black fungus, bamboo shoot, mustard greens and carrot. Add some warm water if necessary. Bring to boil again. Reduce heat to medium.
Stir in tofu, rice vinegar, soy sauce, salt and white pepper powder. Slowly stir in cornstarch mixture and then pork. Cook for about 2 minutes or until soup becomes thick. Reduce heat to low. Slowly stir in egg and then sesame oil.
Serve hot. Sprinkle chopped green onions and cilantro in soup bowl. Sprinkle some more white pepper powder in soup bowl if desire.