Amber T.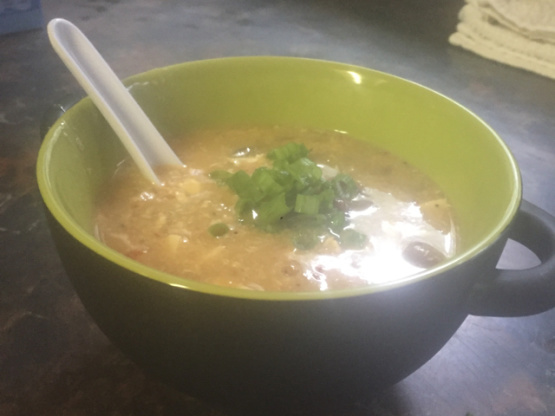 This is my family's very favorite soup! It taste just like take-out! It's quick and easy. I have been making it for years. Have a cold? Forget that plain old chicken soup! ***IMPORTANT TIP*** I suggest making this soup a day or two ahead to let the vegetables and tofu marinate! Then just heat and serve. Enjoy!

WONDERFUL SOUP! This recipe is the best I've had. Marinating it over night really adds to the depth of flavor, great tip! The 2nd time I made this I doubled the amount of liquid and spice and left the veggie amounts the same. I like extra broth. It's also worth mentioning that I thought I wouldn't like the Tofu- but when it's left to marinate it completely takes on the flavor of the soup! This recipe is a keeper!
Bring stock to a simmer, add soy sauce, pork, mushrooms& chile paste, simmer for 10 minutes.
Add meat, pepper, vinegar, bamboo, baby corn, water chestnuts, fungus and tofu, simmer 10 min Mix cornstarch with 5 tbsp water and add.
bring back to a simmer and pour the eggs in a very thin stream over the surface.
Let stand for 10 seconds before gently stirring in the sesame oil.
Serve with a garnish of chopped scallions.