PaulaG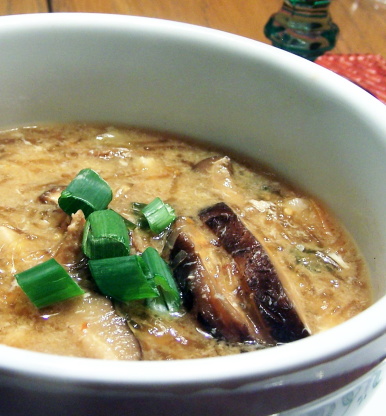 This a popular soup in Chinese restaruants but with a Taiwanese twist. The ingredients may be found at Asian grocery stores.

This is my favorite soup and thanks to your recipe it turned out great, now i am soooo happy i can make this at home and not try every Chinese restaurant in town to see who can actually make a good hot and sour soup, because most of them can't.
Pour enough warm water over the dried mushrooms in a medium bowl to cover them completely. Soak until softened, about 20 minutes.
While mushrooms are soaking, pour enough warm water over the noodles in a separate bowl to cover completely. Soak until softened, about 10 minutes. Drain thoroughly then cut into 4" sections.
Drain the mushrooms. Cut off and discard stems of shitake mushrooms. Thinly slice the mushrooms.
Bring the chicken stock to a boil in a large sauce pan/pot. Stir in the mushrooms, pork, and carrots. Simmer for 2 minutes.
Stir in the noodles, tofu, vinegar, soy sauce, chili garlic sauce, sugar, and pepper. Simmer until heated through, about 2 minutes. Pour in the dissolved cornstarch and cook, stirring, until the soup boils and thickens, about 1 minute. Slowly pour in the egg, stirring the soup in a circular motion to create egg flowers.