Prep 10 mins
Cook 15 mins

From Everyday Food April 2004.
Directions
In a large pot, combine broth, soy sauce, pepper, and water.
Bring to a boil over medium heat.
Add mushrooms. Reduce heat and simmer for 10 minutes or until tender.
Meanwhile, whisk together vinegar and cornstarch in a small bowl.
Add vinegar mixture to the pot and simmer, stirring, for about one minute or until thickened.
Add egg through a slotted spoon while stirring.
Stir in tofu.
Remove from heat, cover, and let stand for 1 minute.
Press ginger through a small sieve to release juice into the soup. Discard solids.
Sprinkle with scallions and serve.
Most Helpful
I made this today and I am happy to report that it is delicious!! I did make the recipe exactly as written and will definately make this one again. Great soup and thanks for sharing!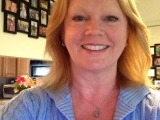 I think this is great the way it is. No changes here. You have all the right ingredients to make a very tasty soup. Thanks for posting.

This is a very easy and flavourful soup to make. I was out of mushrooms so I subbed thinly sliced carrots instead. My entire family loved this soup. The only alteration I made was to add a little sesame oil. Thanks for such a great recipe.