Hot and Crusty Shrimp Sandwich
GaylaJ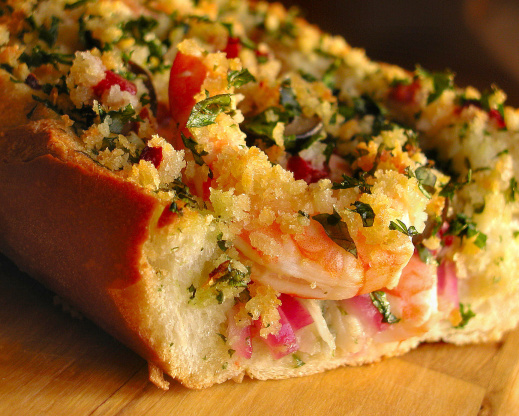 This open-faced sandwich is fantastic! The recipe is adapted from one in a book given to me several years ago by my mother-in-law called "Season's Greetings", by Marlene Sorosky. Marinating time is not included in prep time.

I really wanted to make this because the picture looked so good! After reading the reviews I decided to do it a little differently! The marinade I did the same except I used a teaspoon of lemon pepper instead of lemon juice, put in a large ziploc baggie and put in the refrigerator. After about 3 hours I just dumped it all into a pan and sauteed until shrimp was done (my shrimp were huge so I cut them into pieces after cooking). I thought it was a little strange to put the parsley/garlic/butter mixture on the outside of the sandwich so I spread some of it on the scooped out part of the bread and the rest in a bowl along with bread crumbs & all remaining ingredients. Mixed well and put on the loaf. Topped with some grated cheese (any kind will do) and baked at 400 until the cheese melted, about 10 to 15 minutes. I did not saute the bread crumbs which cut out some of the fat. This smelled wonderful and tasted even better! My husband kept telling me how great it was!
To make the marinade, mix the oil, garlic, mustard, salt, lemon juice, vinegar, and cayenne in a medium glass or plastic bowl. Stir in the sliced onion and shrimp. Cover and marinate in the refrigerator up to 3 hours.
Using your hands, remove as much bread as possible from the inside of the half-loaf of French bread, leaving a 1-inch rim. Place the bread pieces in a food processor (fitted with metal blade) and process into crumbs; measure 1 cup. Saute' the 1 cup crumbs in 2 tablespoons of the butter until golden; set aside.
Preheat oven to 400°F With a fork, mix remaining 4 tablespoons butter with 3 tablespoons parsley and the garlic in a small bowl until combined. Spread on the inside of the hollowed loaf. Remove the shrimp and onions from the marinade (reserving marinade) and place in the loaf. Sprinkle with the olives and pimento, then drizzle with 3 tablespoons marinade (discard remaining marinade). Sprinkle with the sauteed bread crumbs and remaining 2 tablespoons parsley.
Place the bread on a sheet of foil in the center of the oven. Bake for 18-20 minutes, or until the shrimp are pink and the bread is crusty (watch closely--mine did not take this long).
Using a sharp, serrated knife (or a large mezzaluna, as I used), cut into 6 slices to serve. Serve warm or at room temperature.