Horseradish Shrimp (Skagenröra Med Pepparrot)

Posting for ZWT6 Scandinavia Region. This is from www.gretchencooks.com A Swedish seafood dish with the bite of horseradish. Preparation Time is for the stand time in the refrigerator.
Directions
Mix shrimp, mayonnaise, horseradish, dill, cayenne, and lemon pepper. Let stand in the refrigerator 3 hours or overnight.
Serve on toast or crisp bread. Garnish with red onion, lemon, dill, cherry tomatoes or caviar.
Reviews
Most Helpful
Excellent combination of flavours. I made 1/2 a batch, but added the full amount of horseradish. Served on sourdough toast. I used Best Ever Homemade Mayonnaise as the base because it is a great unsweetened mayo. Thanks for posting.

We loved this, a really nice change to the average prawn salad. I used creamed horseradish as the recipe didn't specify creamed or fresh. We did find it a bit too hot and the cayenne overpowered the horseradish so next time will reduce the cayenne slightly. Made for ZWT6.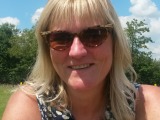 This made the nicest lunch served with Mother's One-Hour Rolls (Mors Tvebakker) and Rosmarinsmör (Rosemary Butter). I halved the recipe and cut the shrimp into large chunks before mixing into the mayo mixture. The dill and horseradish were a great combo with the cayenne adding just the right heat. I did give it a small squeeze of lemon from the garnish and it brightened up the dish. Thanks for sharing. Made for Scandinavian region of ZWT6.