Horseradish Shrimp (Skagenröra Med Pepparrot)
Lou van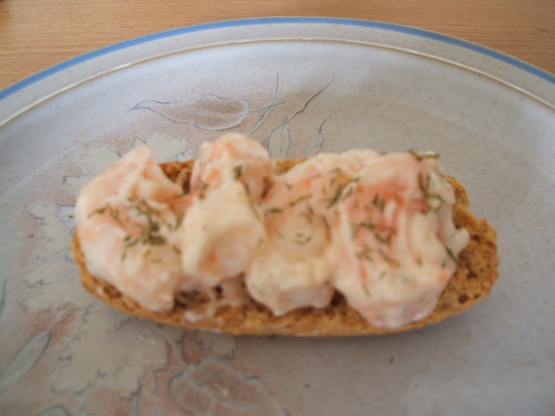 Posting for ZWT6 Scandinavia Region. This is from www.gretchencooks.com A Swedish seafood dish with the bite of horseradish. Preparation Time is for the stand time in the refrigerator.

Excellent combination of flavours. I made 1/2 a batch, but added the full amount of horseradish. Served on sourdough toast. I used Recipe #207860 as the base because it is a great unsweetened mayo. Thanks for posting.
Mix shrimp, mayonnaise, horseradish, dill, cayenne, and lemon pepper. Let stand in the refrigerator 3 hours or overnight.
Serve on toast or crisp bread. Garnish with red onion, lemon, dill, cherry tomatoes or caviar.