Horseradish Made With Beets --fresh--
Rita1652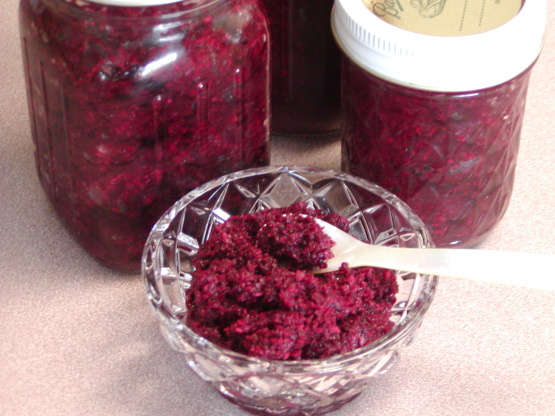 Want to kick up a ham sandwich, top and deviled egg, use on a roast beef, in a pot roast or make a cocktail sauce with it. Use fresh firm roots. PLEASE be advised Do this in a well ventilated area or better yet outdoors. Your eyes will burn as even my skin on my face started to feel the heat. If you don't feel heat your horseradish is old. Don't bother!

I actually grew up eating this stuff with gefilte fish (a Jewish delicacy of stuffed fish). This homemade version wasn't too hard to make and was quite tasty. I like mine a bit 'sharper'.. maybe my horseradish was a bit of a weakling? Either way, it was very good. Thanks!
3

raw beets, peeled and quartered

3

large horseradish root, peeled and sliced into 1 inch pieces

14.79

ml salt

14.79

ml sugar

236.59

ml vinegar, 5 percent acidity

118.29

ml bottled cold water (we don't want any chlorine in here)
Over medium flame heat vinegar, salt and sugar just to dissolve the sugar.
Remove from heat and add cold water.
In a food processor with metal blade add horseradish and beets.
Add vinegar mixture to help process.
If you need to add more vinegar so that the horseradish and beets are well chopped and blended into a fine mixture.
Jar and store horseradish in clean glass jars with a tight fitting lids in the refrigerator.
The more you open the jars the weaker it becomes.