Horseradish and Smoked Gouda Mashed Potatoes (Aka Van's Favorit
Boomette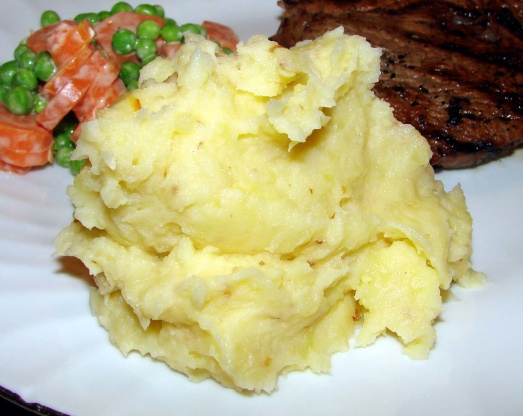 I got tired (but still love them) of Garlic Mashed Potatoes and wanted to try something new, this is what I came up with. Please keep in mind I am a chef who cook's by feel and taste so all measurements are subjective (guess that's why I don't bake much). Use your math and this recipe can be reduced or multiplied easily. Peel on or peel off? Up to you.
5

lbs potatoes, cubed, use spuds with a high moisture content (or add extra moisture using cream or butter, if you must use some potato "broth")

1

lb smoked gouda cheese, shredded

5

tablespoons prepared horseradish or 3 tablespoons fresh grated horseradish
1⁄4 lb butter, cut into small bits

1

cup half-and-half
salt and pepper, I let my family and guests do this for themselves
Boil potatoes until tender, drain (DO NOT rinse), return to pot and place over LOW heat.
Add half and half and start mashing.
Add Smoked Gouda, keep mashing.
Add horseradish, keep mashing.
Add butter and stir a bit.
Serve, the bits of butter should still be melting.