Horseradish and Lemon New Potatoes
Kelly M.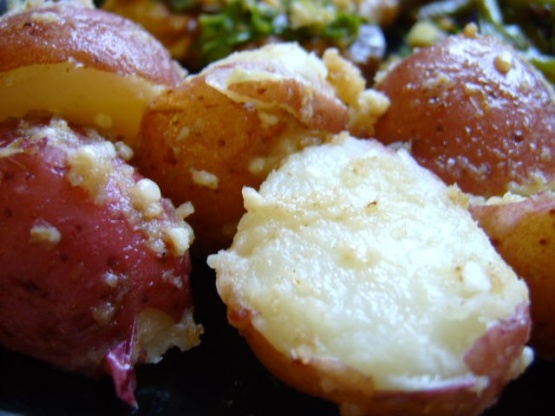 Horseradish and lemon make a delicious combo for these baby new potatoes. Simple to make! Don't let the amount of horseradish scare you off....it cooks up very subtle!

I make and review a lot of potato dishes but this one was special. It was simple to make and tasted great. I can imagine this lovely fresh tasting sauce over any sort of steamed veggies too. In fact, we had steamed asparagus tonight, and both loved it dipped in this sauce.
Heat water to boiling in large saucepan.
Add whole potatoes and cook until tender, about 12-15 minutes.
Meanwhile, in small bowl combine horseradish, lemon juice, garlic and salt.
Mix well.
When potatoes are done, drain.
Cut in half.
Melt butter over medium high heat in same saucepan used to cook potatoes.
Add horseradish mixture, stirring well to combine and cook for about 2 minutes, stirring.
Add potatoes, gently mix until coated.
Serve warm.