Horiatiki Salata: Greek Salad
Jostlori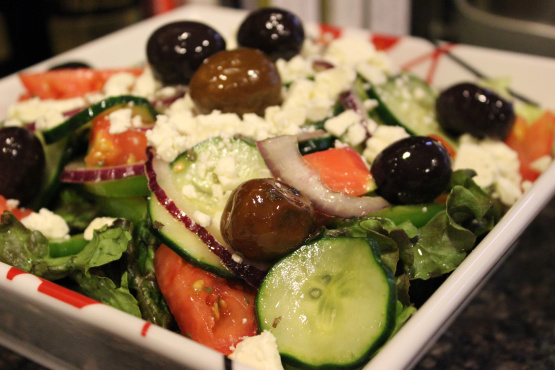 Who doesn't love these ingredients? Sometimes I cheat and use Mozarella instead of feta; personal choice. The amount of Olive Oil, seal salt, peppers, and oregano is your choice. Recipe from About.com

This has WOW written all over it! What a fantastic salad! Beautiful, too! Thanks, fellow Gourmet Goddess -- Ck2plz! Happily made for ZWT9.
4 -5

tomatoes, large, ripe

1

large red onion

1

cucumber
1⁄4 lb sliced Greek feta cheese or 1⁄4 lb crumbled Greek feta cheese
dried greek oregano (rigani)
sea salt (quantity of your choice)
olive oil, top quality extra virgin (quantity of your choice)

1

dozen Greek olive (Kalamata, green Cretan olives, etc.)
hot pepper (garnish)

1

tablespoon water (optional)
Wash and dry the tomatoes, cucumber, and green pepper. Clean off the outer skin from the onion, wash, and dry.
Cut the tomatoes into bite-sized irregularly shaped chunks, removing the core. Salt lightly. Slice the cucumber into 1/4-inch slices, cutting slices in half (whether or not you peel the cucumber is a personal choice). Salt lightly. Slice the pepper into rings, removing the stem and seeds. Salt lightly. Slice the onion into thin rings.
Combine the tomatoes, cucumbers, green pepper and onion in a large salad bowl. Sprinkle with oregano, pour olive oil over the salad, and toss. Just before serving, place the feta on top of the salad, either as a slice or crumbled (as in photo), and toss in some olives. Sprinkle the cheese with oregano (and pepper if desired), mix the oil and water and drizzle over the top, and serve, garnished with hot peppers.