GaylaJ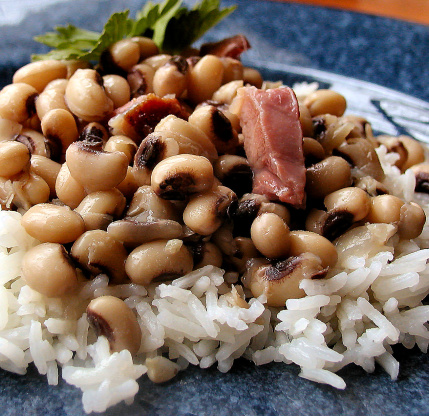 This simple dish is a New Year's Day tradition in our home, as it is in many homes across the southern part of the United States, and the recipe is based on one that was published in a local newspaper many years ago. We like ours doused with hot sauce and served with cornbread. Prep time does not include overnight soaking of peas.

Delicious! I made this exactly as directed, but instead of using a ham hock I used a smoked turkey leg I had in the freezer. I would have loved to use both the ham hock AND the turkey leg, but I couldn't find the ham hock in the freezer that I swore was in there. So as a substitution, I used good bacon, which I sauteed with the onion, garlic and celery in the beginning. Barely needed any extra seasonings other than called for. So good, I will be making this again! Thank you GaylaJ!
Soak peas overnight with water to cover by 2 inches. Drain and set aside.
In large Dutch oven, saute' onion and garlic in oil until onion is transparent. Add peas, oregano, chicken stock, and pork.
Bring to a boil; lower heat, cover and cook slowly until peas are tender, about 30-40 minutes (I usually cook mine about an hour), adding additional liquid if needed.
Remove shanks/hocks, setting aside until cool enough to handle; pick meat from bones and add it back to the peas (discard skin, fat, and bones). Add salt to taste.
Serve over rice.