Rita1652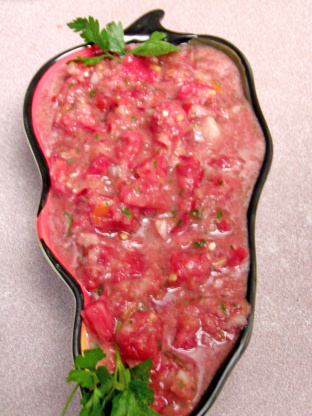 Easiest, freshest and tastiest salsa ever!

I made this as an ingredient for Tom's Salsa Ranch Chicken Sandwiches #171623 because I didn't have any bottled salsa ranch dressing around, nor did I have any bottled tomato salsa. I cut it to 6 servings, so I used one 10oz can of diced Ro-tel Mexican Festival tomatoes, 1 seeded serrano pepper, 1/4 of a large onion, and a handful of cilantro. I also added one packet of True Lime, and some extra salt. I pulsed this in my Magic Bullet for convenience (normally I would leave my salsa a bit more chunky than the Magic Bullet can provide), so it came out more of a chunky puree than an actual chunky salsa, but it worked fine for my purpose. Pretty spicy by itself, so it lent a nice kick to the salsa ranch dressing. I mixed a quarter cup or so of salsa with about 1/2 cup of freshly made ranch dressing -- delicious! I think I would have considered foregoing the chicken sandwich and just taken a spoon to the salsa ranch if I didn't know any better lol! I didn't have any problem with this being watery or thin, either. This will definitely be one of my go-to basic tomato salsa recipes from now on, because this easily trumps storebought jarred salsa anyday! Thanks for posting!
1

quart canned tomato, undrained

1

medium onion, any color

2 -4

jalapenos, to taste

1

bunch cilantro, washed and dried
1⁄2 teaspoon salt, helps to preserve it too
Gather cilantro like a flower bouquet with stems in your hand and leaves at the top.
Just below where leaves begin cut stems off and discard or save for another use.
Carefully cut jalapenos in half lengthwise and remove seeds for a less spicy salsa. Leave in if you like it spicier. (Note: if you are not a Texan- or even if you are- you may want to wear gloves to keep the hot juice off your hands. DO NOT touch your eyes or nose in the next few hours. IT BURNS!).
Put everything in blender and pulse until desired consistency.
Refrigerate and served chilled or eat at room temperature.
Great on chips and just about everything else!
Keeps for about a month in refrigerator.