Hoot 'n Holler Whiskey Cake
Chilicat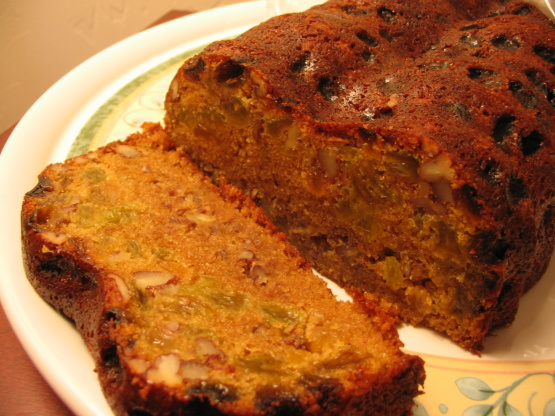 This is from an old food BBS. My apologies to whoever posted it originally. WARNING: This is NOT low anything :)

This is a lot like a fruit cake - very moist and dense and full of fruits and nuts. It would probably be good with some candied cherries. :) The taste of the whiskey really comes through, which I think is what helps make it so yummy. I had to use a larger pan (I didn't have the right size) so mine only took an hour to bake. This is really good stuff!
Preheat oven to 325F.
Grease and flour a 9 x 5-inch loaf pan.
Cream butter with the sugar and the eggs.
Mix together the flour, baking powder, salt, nutmeg, and add it to the butter mixture. Stir in the milk.
Put the baking soda into the molasses and mix. Add it to the butter and milk mixture.
Add the raisins, nuts and whiskey. Pour into loaf pan and bake for 1-1 1/2 hours. (Test after 1 hr.)
Remove pan to wire rack and cool for 10 minutes. Turn cake out of pan onto rack. Cool Completely.
Keep leftover cake wrapped in foil, in the refrigerator.