Nif_H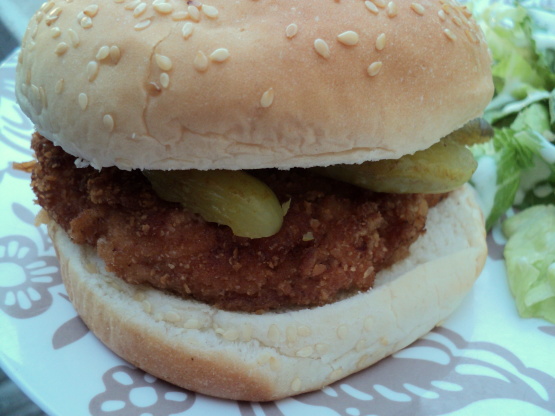 I love pork tenderloin sandwiches and haven't been able to find a good one since I moved away from MO. I found this recipe in a book by Jane and Michael Stern, who ate at Nicks Kitchen in Huntington, Indiana. I don't know whether this recipe is the Sterns' or the restaurant. Either way, it sounds like a keeper! Time allowed doesn't include the 12-16 hours of soaking.

Top Review by Nif_H
OH MY, this was good!!! I have to come clean though - when I read the instructions, I interpreted that I was to use 4-inch slices of pork tenderloin but I think it was supposed to mean 4 1-inch slices! I used a large tenderloin to make my giant cutlets. LOL! Not to worry, I cut them when I was done cooking them and I have enough left for another round of sandwiches. This recipe is really delicious and great with dill pickles and a spicy Dijon. YUM! Made for my adopted chef for Fall PAC 2011. Thanks PrimQuilter! :)
158.51

ml all-purpose flour, plus more for dredging

4

inch thick rounds pork, cut from a pork tenderloin

473.18

ml buttermilk

2

large eggs
vegetable oil (for frying)

473.18

ml saltine crackers, crushed

4

hamburger buns or 4 hard rolls
Pound pork tenderloin until it's 1/4" thick.
Mix together buttermilk, 2/3 cup flour and eggs to make a paste.
Cover tenderloins with this mixture and refrigerate 12-16 hours.
Heat 1" of oil to 350 degrees in a large skillet.
Remove soaked pork from dish, letting mixture drip away.
Bread pork with crushed crackers, patting the crumbs in so they stick.
Fry each slice until golden brown, turning once. Total cooking time for each slice should be 6-8 minutes.
Serve on bun with mustard, pickle slices and raw onion.