Hong Kong Fish in Curry Sauce
PaulaG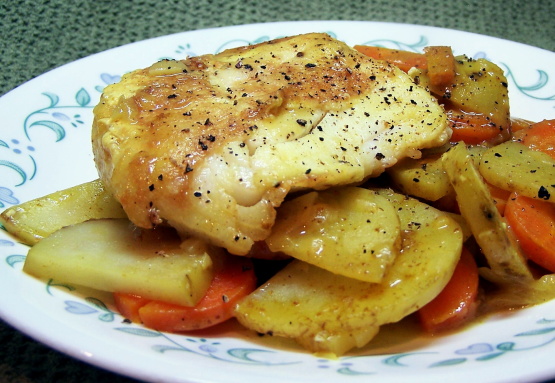 This easy and delicious dish can also be prepared with chicken, shrimp or scallops. Note this recipe has been updated to reflect gracious suggestions from Ready Set Cook #9 Contest reviewers.

Top Review by Zurie
RSC #9 review: Maybe I'm obtuse, but this recipe was hard to understand. 1 lb fish is not enough for 6 servings for normal appetites. The veggies were fine, but the curry powder ... I used a very mild Malay type, but 1 Tbls, if stronger, would be totally overpowering. Instructions were not very clear, but I assumed I should mix together the ingredients for the "flavoring sauce". But it was the fish marinade which really puzzled me, as it was more like a coating for fish fried in deep oil than a marinade. The resultant dish was "soupy" -- did I misunderstand something?? -- and really not to our taste. I'm sorry, in case I really did not understand the recipe correctly: the instructions were scant. The cook tried her best with ingredients which were not easy to work with. Good luck with any other other recipes!
In two separate bowls, mix together marinade and flavoring sauce ingredients.
Cut fillet into 1 1/2 x 1 1/2 inch pieces.
Dry the fish with a clean kitchen towel, pressing out any excess water.
Marinate fish for 15 minutes.
In a skillet, heat 2 T oil over medium-high heat and pan fry the fish on both sides until lightly browned, about one to two minutes per side; transfer fish to serving platter.
Heat 2 T oil over high heat; stir fry the onions for a few seconds.
Add the curry powder, potatoes and carrots; stir fry until well-blended.
Add the flavoring sauce; cover and cook over medium heat until the potatoes and carrots are tender, about 12 minutes.
Return fish to pan and mix gently.