Honeysuckle Sore Throat Syrup
Rita1652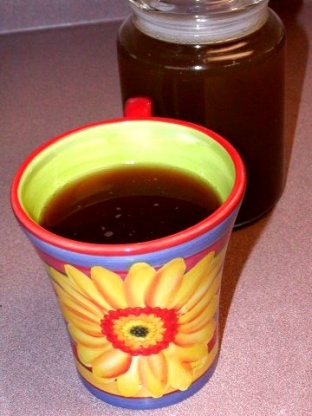 This was gotten off a botanical website and submitted by a girl named Deborah. She says this cured her little girl's strep throat when no antibiotics would. I love honeysuckle and it grows profusely here along roadside fences. You can mix flowers and leaves in proportion you like.

Both honeysuckle and honey are very good for a lot of things! My Honey Honey You`ve got me wanting you cookbook http://www.recipezaar.com/mycookbook/book/33443/ will tell you the benefits of honey. I posted 3 pictures one showing just the syrup in a picture then the other is a cup of herbal tea I made and used this syrup to sweeten it the last is of the lowers and leaves as it cooks. Easy and very good!I just wanted to add this FYI>>>>Honeysuckle leaves and flowers are known for their soothing, medicinal benefits. The plant is rich with salicylic acid (an anti-inflammatory) and others such as glucose and tannins. The essential oil of the Honeysuckle plant is also used to treat coughs, bronchitis and other respiratory problems. Because of its soothing properties it is also used in skincare to treat itching, cuts and allergies.
Gather two cups of leaves and flowers from wild Honeysuckle vines(make sure they haven't been sprayed). If you can't get the flowers, leave them out of the recipe.
Bring 1 quart of water to a boil and add the two cups of honeysuckle leaves. Gently simmer for 10 minutes and strain.
Add the "tea" back to the pot and add 1 cup of honey, bring to a boil and boil for one minute and remove from heat. Add any flavorings at this time to the syrup. Deborah says her children love it when she adds one packet of lime Kool-aide.
Store in fridge up to a month or freeze in small batches and take out what you need at one time. This cured a strep throat in Deborah's daughter during a severe mono infection when no antibiotics would work. Now it has been a standby in her home for over 10 years.
Dosage: 1 oz every two hours for 5 yr. olds and up to adult.