Honey's Chunk-Style Applesauce
berry271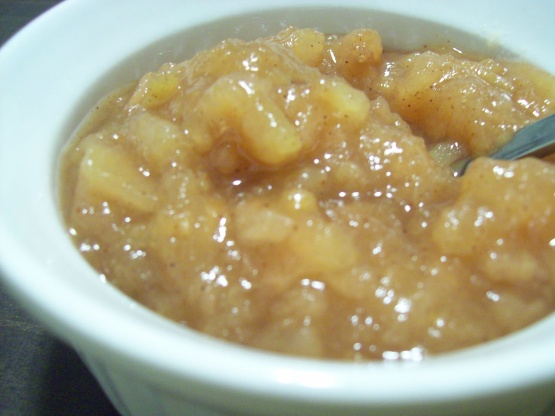 This is my (honey's) husband's specialty! Once you try this applesauce, you'll never buy it in the supermarket again! The recipe can be doubled if you have a large size crockpot. Remember that apples shrink down with cooking.

When I make applesauce (which isn't incredibly often) I use this recipe. I have never used honey, and I have found that 1/2 cup of sugar is plenty sweet for me (I usually buy no sugar added applesauce though). I like the chunky texture of this, and the homemade taste is a treat. Also my copy of this says to use a 3 1/2 qt. slow cooker. I recently made a double batch and it fit in my 5 qt. cooker. I had to squish a bit at first, but by the end it was only 1/2 to 3/4 full, so it worked out well.
Place all ingredients in crock-pot;.
Cover and cook on Low 8 to 10 hours. (High 3 to 4 hours).
May be served warm or you can place it in ZipLoc Freezer bags when cooled and freeze for later use.