Debbwl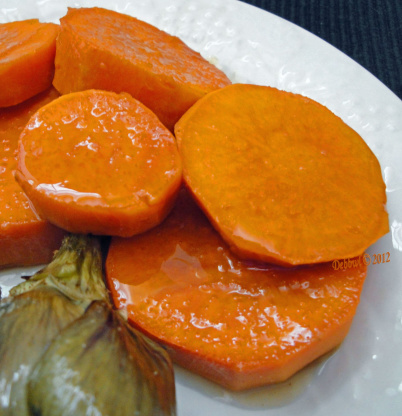 These sound a little healthier than those covered in marshmallows, but still have a sweet taste...11/02/13-I diced these and made as directed; they cooked a little faster so I took them out about 8 minutes earlier than what the recipe stated.

Top Review by Debbwl
Pleasurable side! Enjoyed the way the ginger and honey accented the nicely cooked potatoes. I did cut the recipe way down making only a quart as there were only two of us and I only had 3/4 pound of sweet potato. We also liked that this is a little bit healthier. Thanks for the post.
Place sweet potatoes in a Dutch oven or large saucepan with enough lightly salted water to cover. Bring to boiling. Reduce heat, cover, and simmer about 15 minutes or until sweet potatoes are nearly tender when pierced with a fork. Drain. Transfer potatoes to a greased 2-quart square baking dish.
Mix brown sugar, honey, margarine or butter, and ginger in a heavy small saucepan. Bring to boiling, stirring constantly until sugar is dissolved. Boil gently for 3 minutes. Pour over potatoes.
Bake, uncovered, in a 350 degree F oven about 15 minutes or until potatoes are tender, basting occasionally with sauce.
Make-Ahead Tip: Cook sweet potatoes as directed. Cover and refrigerate potatoes up to 24 hours. To reheat, prepare glaze as above; pour over potatoes. Cover with foil and bake in a 350 degree F oven for 15 minutes. Remove foil; bake about 20 minutes more or until tender, basting occasionally with sauce.