Honeyed Fig and Blueberry Jam
Rita1652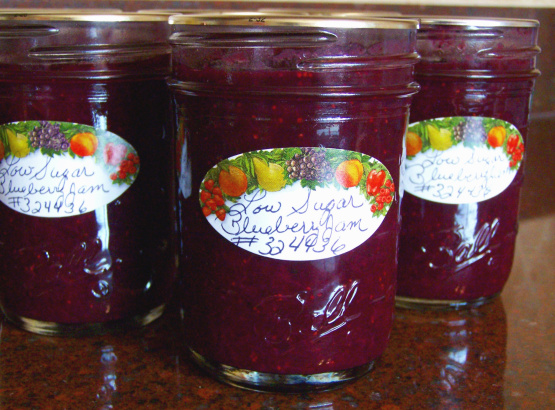 This is a variation of my Blueberry Fig Jam "very Low Sugar" Blueberry is a big requested jam. I had lots of fresh figs so I combined the 2 and made this. Using only 1/4 cup of sugar and 1 cup honey. I did crush the figs and blueberries in the food processor. Check out infused honey for optional flavors http://www.food.com/cookbook/infused-honey-130206 Cookbook #130206

sweet and yummiliscious. Perfect blend of fig and blueberry. I was almost tempted to eat the entire jar.
Mix pectin and sugar together.
In a large pot add remaining ingredients with the pectin mixture.
Bring to a full rolling boil. About 10 minutes.
Test for jelling.
Pour into sterilized jars leaving 1/4 head space.
Be sure to remove vanilla bean and cinnamon sticks if used.
Wipe rims and place sterilized lids and rings on.
Process in a boiling water bath covered by 2 inches of water.
Altitude times.
1,000-3000 for 5 minutes.
3000-6000 for 10 minutes.
6000-8000 for 15 minutes.
8000-10,000 for 20 minutes.
Remove jars and cool for 12-24 hours.
You can remove rings and wipe jars.
Label.
Store in a cool dark place.