Honeyed Carrots With Cumin
Bergy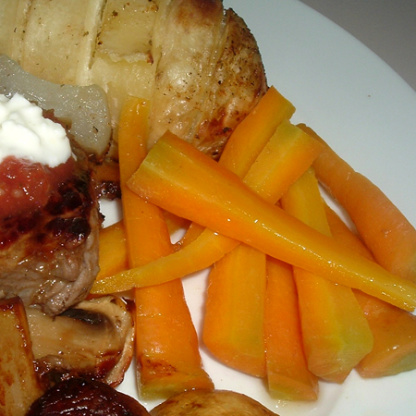 Cooking time is actually the cooling time.

Top Review by Bergy
Tasty combination that takes a carrot to a new flavor level. I used young carrots from the garden, quartered them and simmered them in the honey mixture for 6 minutes. They still had a bit of crispness to them. I cut the recipe back to one serving with no problem Thanks Mercy for a delightful carrot recipe
In a medium saucepan, whisk together all ingredients except carrots.
Bring to a boil over high heat, add carrots, stir, and reduce heat to medium.
Cook, stirring frequently, until most of the liquid has evaporated and carrots are tender, 10 to 12 minutes.
Remove from heat and set aside to cool to room temperature.
Serve, room temperature, in a bowl with toothpicks on the side (flat toothpicks will hold the carrots more securely).