Honeyed Cantaloupe With Blueberries
Kathy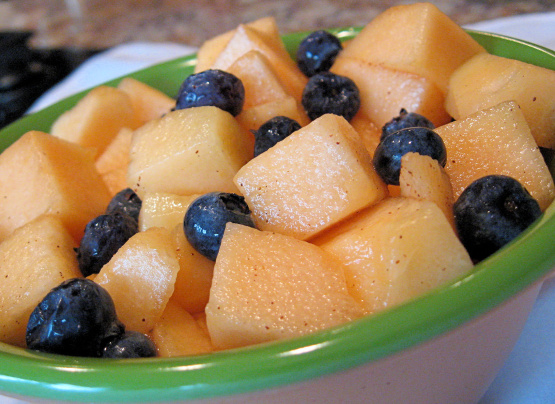 Side dish to Salsa Pasta Ole

I was afraid 2 tbs. of honey might make this fruit dish too sweet. It didn't at all--in fact, it turned into a hardly noticeable coating imparting just a hint of sweet cinnamon flavor. I too added a bit more cinnamon, and it didn't overpower the taste. Thanks, figaro, for giving plain old fresh fruit a bit more pizazz.
Squeeze 1 tablespoon lemon juice into a medium bowl.
Add the honey and cinnamon and whisk until blended.
Pick over the blueberries, rinse, and drain well.
Add the blueberries and cantaloupe to the lemon honey and toss gently to coat.