Honeyed Banana Nut Yogurt
PaulaG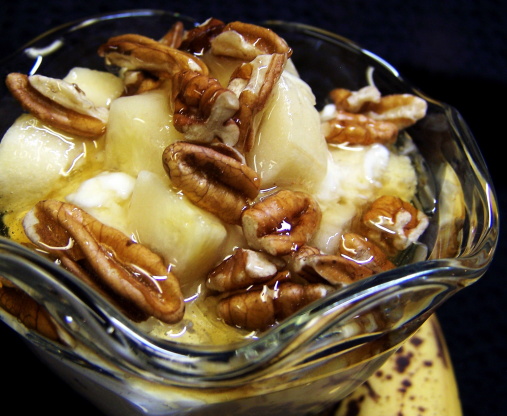 A yummy versatile breakfast, snack, or dessert dish that's healthy too! The plain non-fat yogurt makes it a little tangy, which I love, but you could always use vanilla yogurt.It's very quick, easy, and kid friendly. My three year old loves it.

Really tasty. I used a Balkan (thick) yogurt with no sweetener added. I like the bite it gave and agree with another reviewer that adding any sweetener into the yogurt would have been overkill for me too. I used walnuts and local honey for a quick snack I would make again.
Mix together in the serving bowl yogurt and splenda or sugar. Unless you like it really tangy, then don't add any sweetner.
Sprinkle yogurt with banana, then nuts.
Drizzle honey over top of the nuts.
Enjoy!